Under construction - just like our shed, but we'll be with you soon.
Article from "The Miner" regarding our recent grant.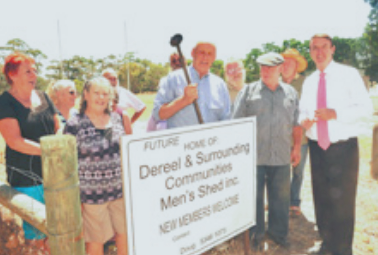 Dereel will benefit from a $34,000 Victorian Coalition Government grant to build a new Men's Shed.
Local Member Terry Mulder, joined members of the Men's Shed Committee, Golden Plains Shire representatives and community members in welcoming the Coalition Government's support for the new shed which is valued at a total $51,000.
"The men's shed movement is really a wonderful initiative and I'm delighted to announce this funding for a new shed in Dereel," Mr Mulder said.
"I know that a great many local people will be looking forward to using the new facilities and that the shed will provide another avenue for community building in Dereel."
The local Men's Shed will also receive $17,000 in additional funding from local Government and the community, bringing the total build to $51,000.
Golden Plains Shire Mayor Jenny Blake welcomed the funding announcement saying $34,000 would 'really kick it along'.
"Seven thousand dollars is coming from the Dereel Bushfire Appeal and another $10,000 in-kind support," she said.
"The project will fund the construction of the shed and it will serve the Dereel and surrounding communities."
Local resident Doug Braddy was instrumental in pushing for a permanent home for the Dereel Men's Shed – it previously ran out of a shed on a former resident's property.
"On behalf of the Dereel Men's Shed I would like to thank everyone who has helped us along the way," he said.
"It's been like going down a winding tunnel and we arrive at the end and there is light there – we are about to step through it.   I urge all the residents to jump on board and get involved in the running of it and the jobs themselves."
Nearly $4.9 million will be invested to build 41 new Men's Sheds across Victoria. The Victorian Coalition Government will provide more than $2.2 million through the $4 million Strengthening Men's Sheds initiative, while nearly $2.7 million will be provided by local council, federal government, philanthropic organisations, community groups and fundraising activities.